Fire & Smoke Damage Cleanup in Buffalo, Wyoming
A fire is one of the most destructive disasters that can break out in your home or workplace. It threatens human life and destroys most of the things that get caught in its wake. As a fire rages, it also produces thick plumes of smoke that carry soot and caustic chemicals that deal additional damage to everything touched. This damage happens gradually and can persist long after the fire has been put out.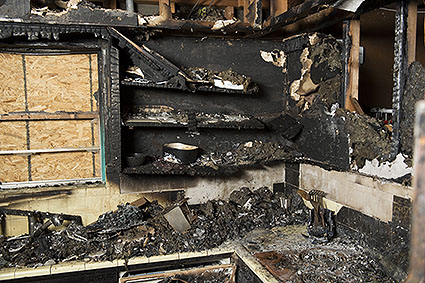 Smoke leaves behind a burnt odor that is hard to get rid of even after cleaning your place and using deodorizers. Making things worse is the fact that smoke's caustic residue eats away at wood, paint and plastics. Over time, acidic reactions weaken and discolor these materials and damage both your infrastructure and its contents. Metals aren't safe from smoke damage, either. The same caustic substances can cause rapid corrosion and the breakdown of electronic equipment.
Don't let a fire do extra damage long after its final embers have been doused. Get professional fire and smoke damage cleanup services from Captain Clean. We've been serving homes and business owners in Wyoming's Sheridan and Buffalo area for over 30 years and we have dealt with every mess imaginable that fire has left behind. We use the most advanced equipment and up-to-date cleaning processes to track down and get rid of every last bit of residue that fire and smoke left behind. Our team of cleaning experts is trained to handle post-fire situations safely and effectively to get the job done in as little time as possible.
Schedule a
FREE

Estimate

We offer a FREE on site inspection and estimate for carpet & upholstery cleaning services.
---
Get rid of soot and smoke odor today. Call Captain Clean and get a prompt response from our friendly staff. We have the capability to handle both emergency and non-emergency requests, so don't hesitate to dial our number if you have pressing needs. For comments, questions and general inquiries, you can email us through our Contact Us page.