Tile Cleaning in Sheridan and Buffalo, Wyoming
One of the main selling points for tile flooring is the ease and infrequency of the maintenance required. Routine cleaning involves sweeping, mopping and vacuum cleaning, which can be done in a matter of minutes. Over long periods of time, even regularly-cleaned tile floors will accumulate deep-seated grime and impurities from particles pushed down by pressure from human traffic. When this happens, darkening and discoloration ensues. Your grout blackens with grime and the entire floor space starts to give off a dated and unappealing aura.
Deep-cleaning tile floors is back-breaking work. You will usually have to be down on all fours while forcefully scrubbing every square foot of your floor with a hand brush, soap and water. It's something that most of us in Sheridan and Buffalo would rather not do; and, thankfully, we really don't have to, because Captain Clean is here to do all of our dirty work.
Captain Clean is Wyoming's premier professional cleaning service provider. We have the up-to-date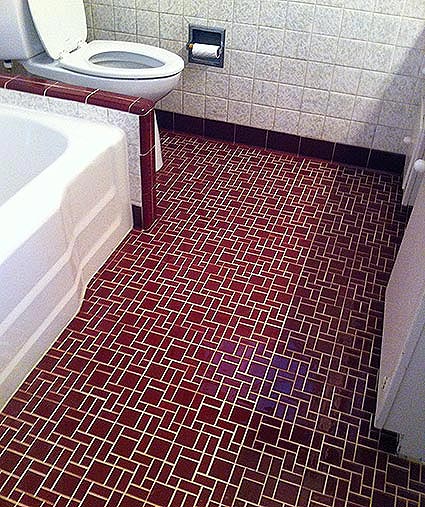 knowledge, experience and equipment necessary for completing the safest, fastest and most effective tile cleaning job possible. We are particularly good at tile cleaning and our track record shows glowing results each and every time.
Schedule a
FREE

Estimate

We offer a FREE on site inspection and estimate for carpet & upholstery cleaning services.
---
The Tile Cleaning Process
When you call Captain Clean for tile cleaning services in the Sheridan and Johnson County, you're guaranteed to witness the most thorough job possible. Our cleaning experts follow a very specific process, including the following steps:
Inspection of the floor area
Cost estimate presentation
Clearing floor space
Vacuum cleaning
Washing with cleaning agent
Steam cleaning
Rinsing
Drying
Get Your Tiles Cleaned by Captain Clean
When it's time to get your floors deep-cleaned by the pros, trust only in Captain Clean. We offer the widest array of cleaning services in Sheridan and Buffalo, Wyoming, to suit whatever needs your home or business may have. Our friendly staff members are on standby to take your call and we're always ready to send in a team of cleaning experts anytime you need it. Our services are backed by the latest technology, the most up-to-date knowledge and over 30 years of field experience to ensure that we deliver the best brand of cleanliness and sanitation possible. Dial our number now to talk to us or drop us an email via our Contact Us page.